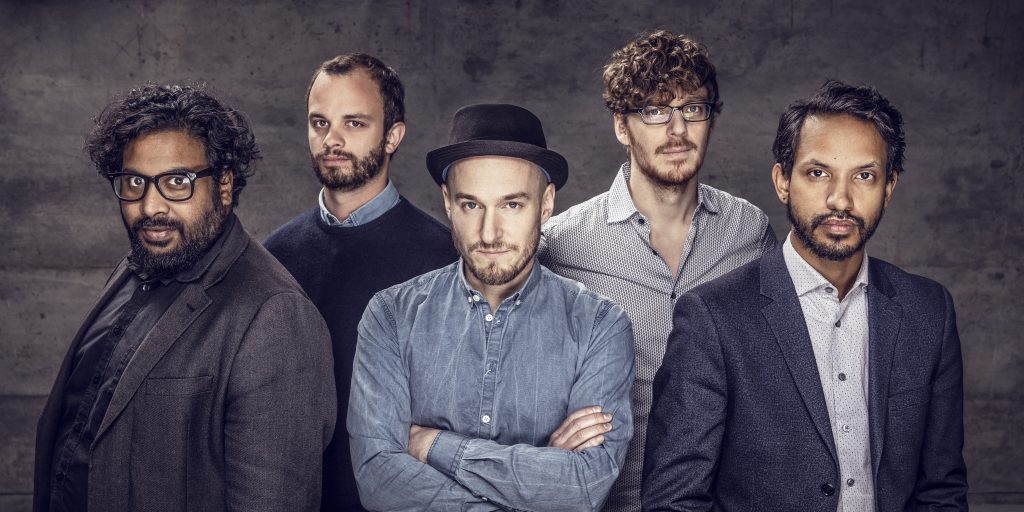 Marc Stucki (CH) – tenorsax
Andreas Tschopp (CH) – trombone
Kyle Shepherd (ZA) – piano
Shane Cooper (ZA) – bass
Kesivan Naidoo (ZA) – drums
GERMAN VERSION / DEUTSCHE VERSION
Skyjack, the award winning collaborative band of five jazz musicians, is split across SA, the USA and Switzerland, and so the magic that happens at their rare concerts provides moments to be treasured.
Within the Band, each artist contributes to the group as a composer and musician, creating a wide palette of sound that draws from various cultural influences including African and European, concentrated into a modern jazz aesthetic. Their self-titled album launched in 2016 with an epic 12 gig tour in 12 days, playing across SA for hugely appreciative audiences. It has garnered rave reviews from serious critics such as Evan Milton, Nigel Vermaas and Gwen Ansell – "Their debut is a delight: by turns intense and thoughtful, and gently impressionistic, but always true to its heart".
It is an exciting record with layered, story-like compositions written by all 5 musicians. From the Ethio-Jazz inspired 'Tafattala' to the modern jazz journey of 'Anonymous In New York', it's eclectic but with a common thread throughout, showing the deep musical bond shared by the musicians who come together as often as the cross-continental trip is possible.
The three SA musicians, all winners of the Standard Bank Young Artist Award, are well known to local audiences and are prolific and prodigious in their offerings. Shane Cooper (double bass) launched his new Johannesburg-based quintet in March, and will be recording a new album later in 2017 with this group.  In September 2016, Cooper launched the EP As We Surface with his electronic music project Card On Spokes to critical acclaim.  Kyle Shepherd (piano) recently made his film debut as composer for the critically-acclaimed independent film, 'Noem My Skollie / Call Me Thief' (2016) which was South Africa's official entry to the 2017 Academy Awards.   In November 2016, Shepherd curated the 49th SWR NEWJazz Meeting 2016 in Germany, and his project 'Sound Portraits from Contemporary Africa', brought together the Kyle Shepherd Trio (including Shane Cooper) with internationally-renowned guitarist, Lionel Loueke (Benin / USA) and Mthunzi Mvubu (ZA) in a a critically-acclaimed 3-concert series.  Kesivan Naidoo (drums), now based in New York after completing his Masters at Berklee University, has been flying the SA jazz flag high, playing with such names as John Patitucci, William Parker, Joe Lovano and Tarus Mateen at venues including Carnegie Hall and the world renowned Dizzy's at the Lincoln Centre.
The Swiss musicians are equally active.  Marc Stucki (tenor saxophone) is touring internationally with different projects and his current solo-program, which he released in 2016.  He also celebrates the 10 year anniversary of Jazzwerkstatt, the international jazz festival he co-founded in 2007 with Benedikt Reising and Andreas Schärer.  Andreas Tschopp (trombone), is possibly the most sought after freelance jazz trombonist in Switzerland, and has performed on 5 continents.  He released his debut album in February 2017 with his band Bubaran, playing Jazz influenced by Indonesian Gamelan music.
Skyjack's first shows together were on a South African tour in 2013, where they played in Cape Town, Johannesburg and then at the National Arts Festival in Grahamstown for Shane Cooper's Young Artist Award showcase, as well as at House on Fire in Swaziland.  In 2015 they reunited for a tour across Switzerland, which saw them enter and win the prestigious Swiss BeJazz TransNational competition, and record their debut album at the legendary Powerplay Studios near Zurich.  As winners of the competition, they returned to Switzerland in January 2016 to perform at the BeJazz Winterfestival in Berne.  They embarked on an SA tour in September 2016, playing to sold out venues in various cities.
DEUTSCH
Skyjack  ist eine Naturgewalt, die Musik immer kollektiv und doch aus der Feder der einzelnen Bandmitglieder. Skyjack tönt nach stockdunkler afrikanischer Savanne und einem Sonnenaufgang auf dem Stockhorn, nach einer Giraffenherde im Galopp gekreuzt mit dem Odeur eines Emmentaler Chaletzimmers in einer kalten Januarnacht zwei Stunden nach dem Verzehr eines Moitié-Moitié Fondues. Eleganz, Kraft, Tradition und Freiheit gesotten in einem Topf voller Gewürze aus zwei Kontinenten.
Skyjack ist eine Kollaboration von Musikern aus der Schweiz und Südafrika. Die Zusammenarbeit hat ihren Ursprung in der Berner Jazzwerkstatt, wo sich Kyle Shepherd, Shane Cooper und Kesivan Naidoo auf verschlungenen Pfaden und in verschiedenen Formationen mit Marc Stucki und Andreas Tschopp trafen. Die Begegnung sprühte Funken auf musikalischer und persönlicher Ebene und hatte zur Folge, dass im Juni 2013 eine Quintett Tournee durch Südafrika und Swaziland stattfand. Obwohl die Formation als solche vor der Tour noch nie gespielt hatte, wurde bereits bei der ersten Probe klar – so fühlt sich kein Projekt an, Skyjack ist eine Band. Hier hatten sich fünf Musiker vom gleichen Geiste, fünf hoch energetische Improvisatoren gefunden.
Shane Cooper ist ein in Kapstadt Südafrika wohnhafter Bassist, Komponist und Produzent. Im Jahre 2013 war er Standart Bank Young Artist of the Year in Südafrika. Im Jahre 2014 gewann sein Debütalbum mit seiner Band "Oscillations" den South African Music Award für das beste Jazz Album. Er arbeitet regelmässig mit dem Kyle Shepherd Trio, dem Reza Khota Quartet, dem Bokani Dyer Trio, und Kesivan & The Lights.
Kyle Shepherd ist einer der bekanntesten Pianisten und Jazzmusiker seiner Generation in Südafrika. Im Jahre 2015 gewann er den UNISA National Piano Competition Award, 2014 war er Standart Bank Young Artist of the Year. Er spielt internationale Tourneen mit seinem Soloprogramm und im Trio mit Kyle Shepherd und Jonno Sweetman. Dieses Trio betreibt momentan auch eine sehr fruchtbare Zusammenarbeit mit Lionel Loueke. Kyle lebt mit seiner Familie in Cape Town.
Kesivan Naidoo,  Schlagzeug, wurde schon im Jahre 2009 als Standart Bank Young Artist of the Year ausgezeichnet, als jüngster Musiker bisher. Er lebt heute in New York und spielt internationale Tourneen mit verschiedensten Musikern und Ensembles.
Andreas Tschopp ist der vielleicht meistbeschäftigste Posaunist der Schweiz. Er spielt internationale Toorneen mit Hildegard lernt fliegen, Le Rex, Vertigo Trombone Quartet und vielen mehr. Andreas Tschopp lebt in Zürich.
Marc Stucki ist ein in Bern lebender Saxophonist, Komponist, Bassklarinettist und Veranstalter. Er spielt internationale Tourneen mit seinen Bands Le Rex, Kaos Protokoll und seinem Soloprogramm. Stucki ist Mitbegründer der Jazzwerkstatt Bern und des Sonarraum U64 in Bern.