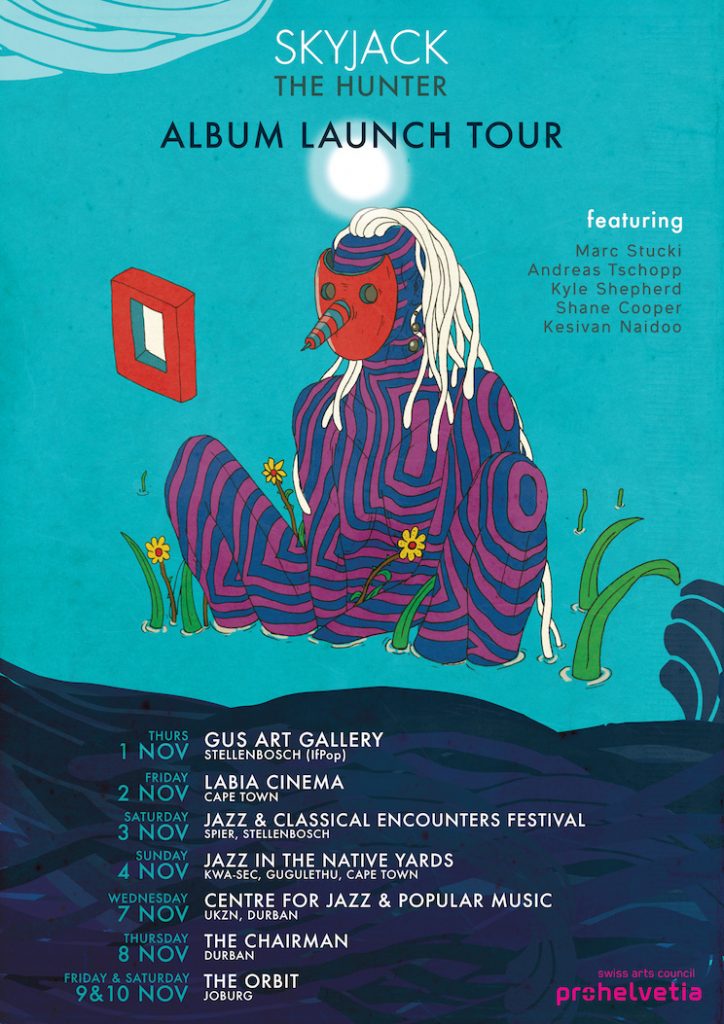 SKYJACK
– The Hunter –
SA Album Launch Tour 2018
Award-winning South African / Swiss collab band Skyjack return to South Africa this November to launch their highly anticipated 2nd album 'The Hunter'. Released on legendary German record label enja's imprint Yellowbird Records. The band consists of some of South Africa's finest musicians: Kyle Shepherd on piano, Kesivan Naidoo (now based in Europe) on drums, and Shane Cooper on double bass. These 3 are joined by two of Switzerland's most in-demand horn players: Andreas Tschopp on trombone and Marc Stucki on tenor sax. Their sound is an absolute powerhouse, with all members bringing compositions written for the group. From deep African grooves, to heavy-hitting jazz rides, and beautiful soundscapes, it's all part of the incredible journey that is Skyjack.
Thu 1 Nov – Gus Art Gallery, Stellenbosch (IfPop) – 7pm / free
Fri 2 Nov – Labia Cinema, Cape Town – 8:30pm / R150 (quicket.co.za)
Sat 3 Nov – Jazz & Classical Encounters Festival, Spier, Stellenbosch – festival from 1:45pm / R430 festival admission (www.quicket.co.za)
Sun 4 Nov – Jazz in Native Yards, Kwa-Sec, Gugulethu, Cape Town – 3pm / R100 (tickets at door)
Wed 7 Nov – Centre For Jazz & Popular Music, UKZN, Durban – 6pm – R80 (general), R50 (pensioners), R25 (students).
Thur 8 Nov – The Chairman, Durban – R10:30pm / R150 (tickets at door)
Fri Nov 9 – The Orbit, Joburg – 8:30pm / R180 (011 339 6645)
Sat Nov 10 – The Orbit, Joburg – 8:30pm / R180 (011 339 6645)